Say Hi to Salesforce Sales Cloud
Sales Cloud is a cloud-based CRM application from Salesforce that includes some useful contact management tools, sales automation, forecasting, and productivity.
It enables you to build business resilience and if you like to get some actionable insights about your business, this is the right address for you.
Always know where to focus your efforts
Making decisions based on market changes is not a problem anymore.
You can visualize and redistribute your customer territories, shifting your sales coverage to meet changing market demand.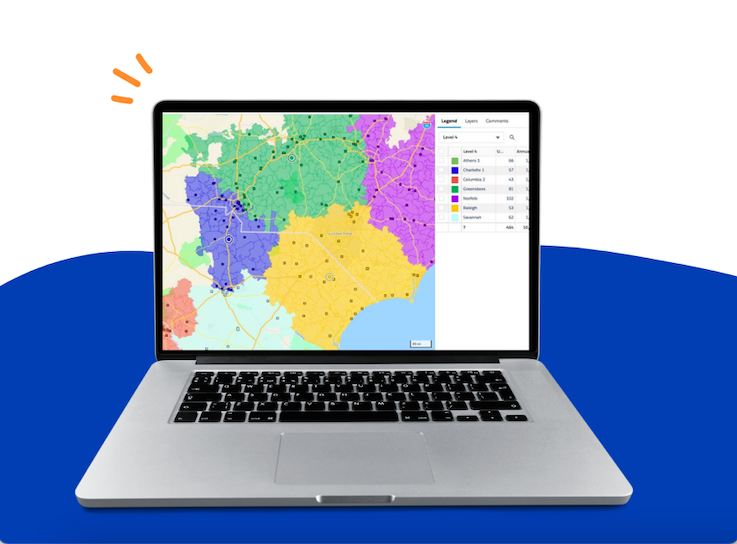 Also, to adapt to your business's changing environment, you have practical drag-and-drop tools for your sales reps to update sales processes instantly.
Your sales team can develop new skills based on the best practices, allowing them to work more efficiently no matter where they are working.
Manage your Pipeline in a smart way
Once you sign in, you can manage the pipeline from lead to close and focus on what needs attention, like key deals, daily tasks and opportunities at risk.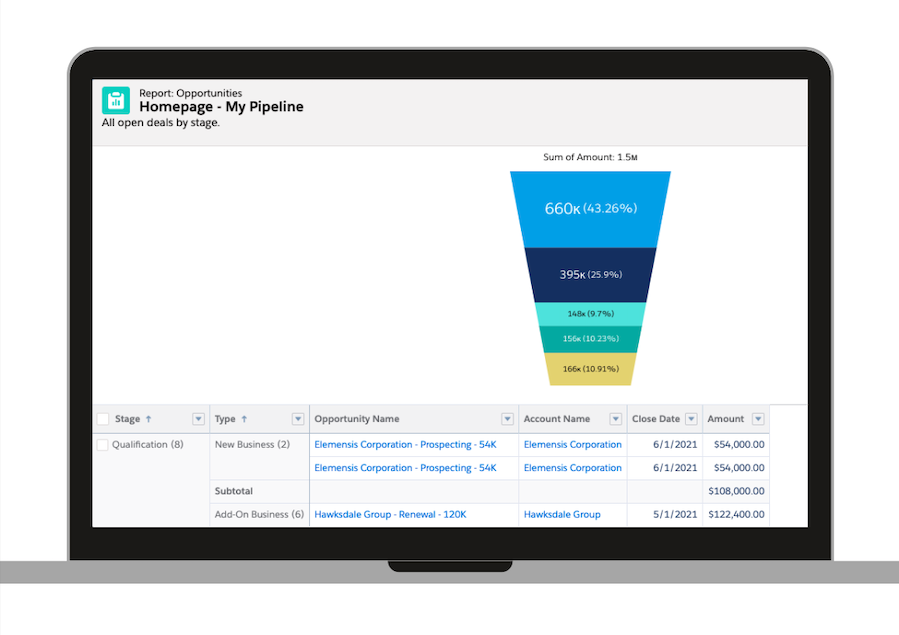 Manage your leads until the deal closure
It's not a headache anymore for your sales reps to manage deals and track every customer interaction from a single workspace called Customer360!
Salesforce uses the power of machine learning and artificial intelligence to score your leads and opportunities, providing actionable insights that help your reps understand where they need help and where they should spend their time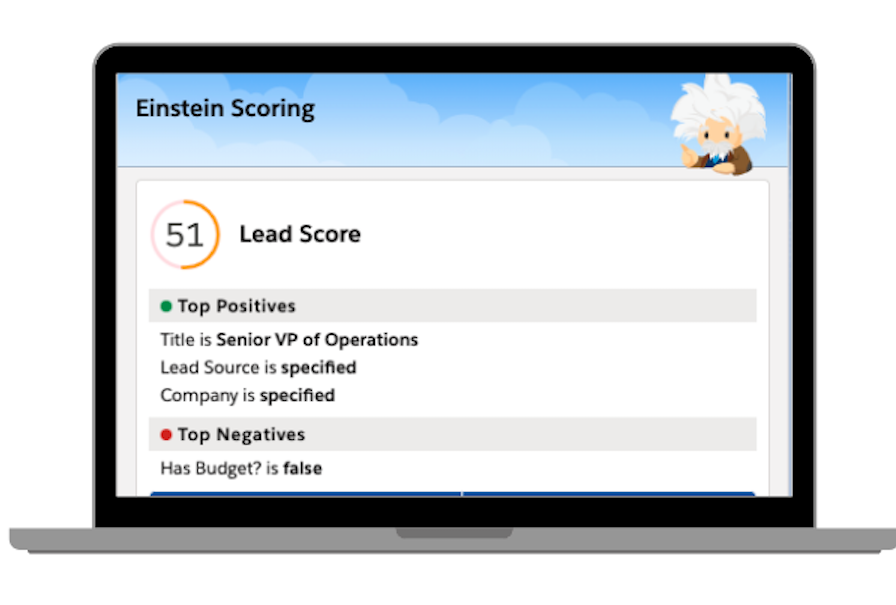 You can share files, create quotes, and update next steps in one place!
Say goodbye to the manual work
No more manual processes getting in the way in the sales process!
From now on, you will manage your deals in a holistic way as your team will be able to see what's going on about the process to bring some ideas on possible improvements!
You can easily integrate your website with Salesforce and the great thing about this is when a prospect fills out a form, they'll immediately show up as a lead in Salesforce, and be directed to your sales rep, responsible for that account.
For sure, once they decide to follow up that lead, they'll have all the information needed in one place on the lead card. Afterward, they either click to dial or send an email with just a few clicks.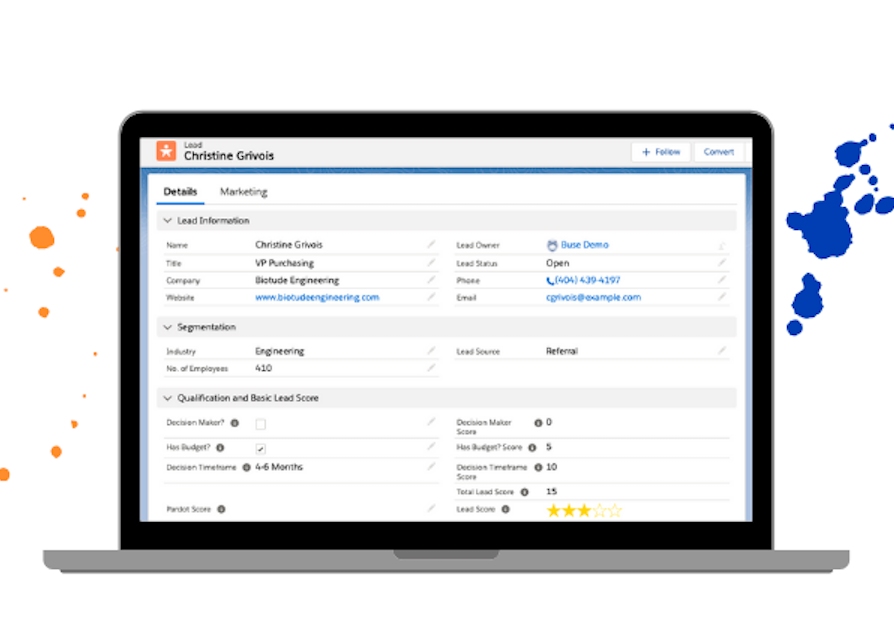 Get a custom fit for your needs
You can determine the relevant information and lead your reps on what they should focus on and automate manual tasks.
It's very practical for your reps because they will spend more time selling and less time updating records.
Once your sales team gets in touch with your prospects and when the right time comes based on the dynamics of the communication, you can easily turn your leads into accounts, contacts, and opportunities.
Manage your opportunities
Opportunities are the heart and soul of Salesforce and your sales cycle.
This is where your team will keep track of which contacts are involved in the deal and what roles they play. It's not all about guessing the activities anymore.
Here you have all the information of what your sales team has done and what they need to do next!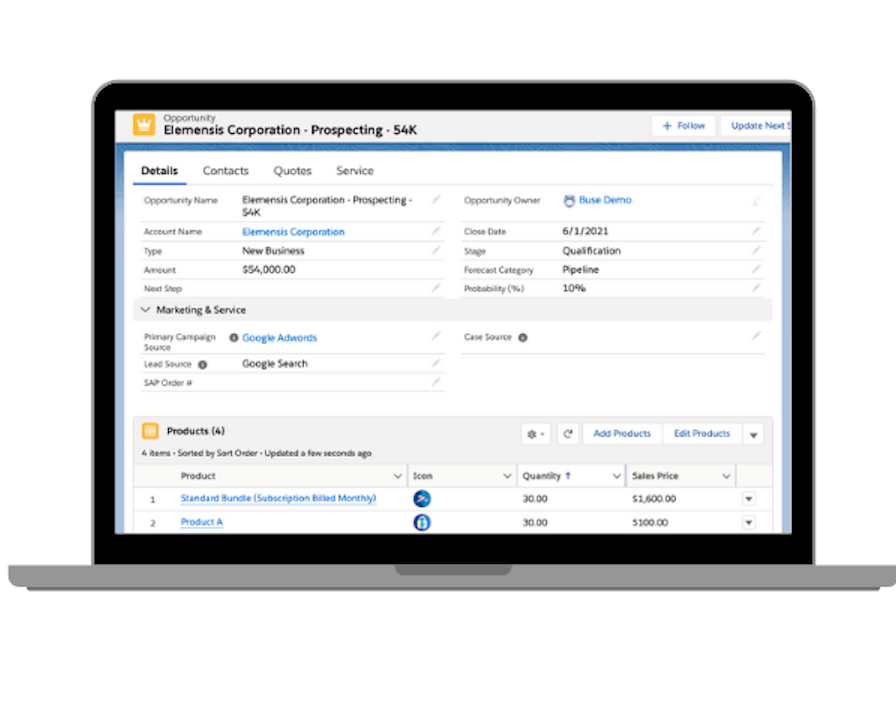 This is not all you can do!
You can quickly generate contracts, manage to bill, and sync all the necessary information with your accounting software to stay up to date!
Understand why Salesforce is the first choice of the sales leaders
Sales leaders need real time insights into the business.
Instead of waiting and asking reps to manually update spreadsheets at the end of the month, they can run real-time reports, dashboards and analytics, whenever they want.
They can see the sales forecast and drill into specific deals in a second. This way, learning more about the sales operations and give a hand to their teams is just easy!
Don't worry, if your reps are a big fan of using emails, they can use our plug-ins to Outlook and Gmail and keep connected to Salesforce while they boost activities through their inbox.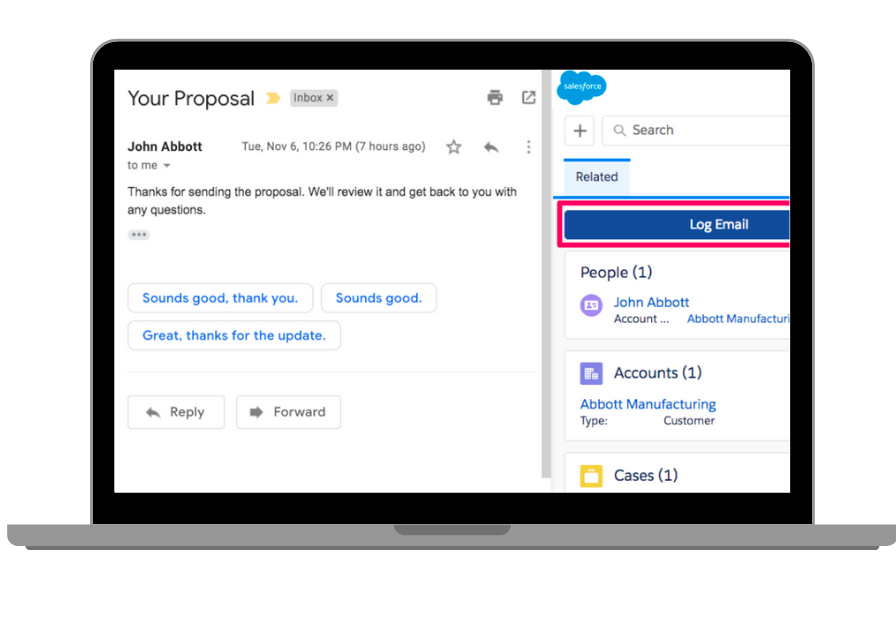 Or they can access Salesforce from their mobile device so they know exactly what's going on before they walk into a meeting and could put next steps in right after.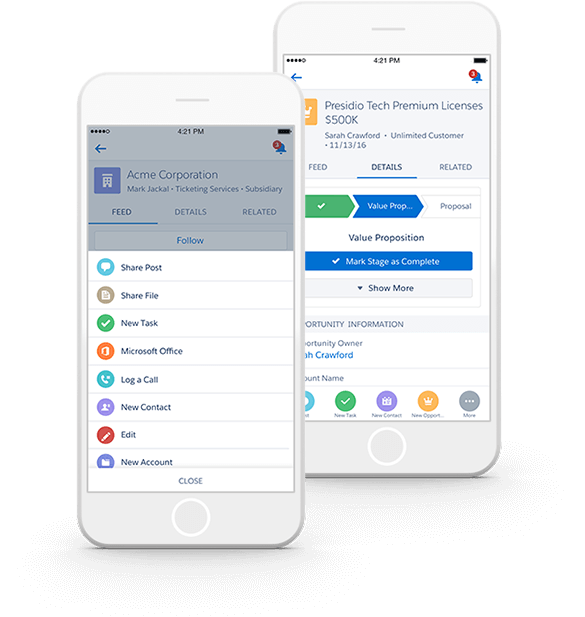 Do you have a challenge in tracking records and develop sales processes? Say hi to Vesium
No worries. Our Salesforce expert team can help you implement and customize Salesforce Sales Cloud and help you build features to custom-guided selling applications!
[hubspot portal="8289787″ id="4b80c57f-82f0-408e-9daa-46a858b44832″ type="form"]