Digital adoption in B2B is one of the hot topics lately as especially with the pandemic outbreak a lot of B2B companies adopted virtual sales models and implemented new digital platforms.
Meanwhile, Salesforce designed Salesforce's Configure, Price, Quote (CPQ) solution to boost the remote selling experience and leave the practices of traditional sales far behind in the ecosystem.
Now companies have more efficient, customized and targeted customer journeys with the help of the Salesforce CPQ & Billing!
Wait! What exactly CPQ stands for?
CPQ stands for configuring, price, quote, and it's an extension of your CRM platform, making the sales process easier and faster.
CPQ eliminates all the manual processes and puts them into an automated sales tools to deliver error-free quotes.
It helps sales reps sell the right product combinations, controls discounting, and automates approvals.
For more details, check this out!
Here are the details of how CPQ adds value to your business by iterating the best practices for a better customer experience during the remote selling process.
The buyer journey is now as in a way that your buyer wants it
In today's digital landscape, buyers are more demanding than ever before. Especially in the early stages of the customer journey, most prefer self-service options for a better evaluation.
In this case, for most of the prospects who don't want to be the ones in the evaluation stage, business owners can lead them to the CPQ platform for a test, configuration and feature evaluation. Means sellers can guide their buyers once they're ready to have a product bundle or a conversation around the pricing.
Product configurations are ready to demo now
In the traditional B2B sales cycle, sellers have to make their customers wait for the product's configuration, demotivating the sales process.
Now, presenting a custom product configuration is ready to present for buyers thanks to Salesforce's CPQ solution.
Because CPK owns the responsibility of product configuration, there is no custom coding required anymore.
All in all, it leads to a unified approach between different departments for a better operational process and sales is faster than ever before!
Enjoy the 3D & AR dynamic visual configurator
Physical products in B2B have always been a problem because buyers had to see them statically with 2D photo properties.
With a CPQ virtual demo of a product, it is precisely the same as how it would be in a trade show!
CPQ helps deals to be closed fast by connecting everything on one platform
Time is the most crucial ingredient of a sales process and the CPQ solution helps sellers overcome the challenges of the pricing process and shorten the deal closure.
There is a disconnected manual process in traditional sales that takes days, weeks, and even after months, but with the CPQ, this is not the case anymore!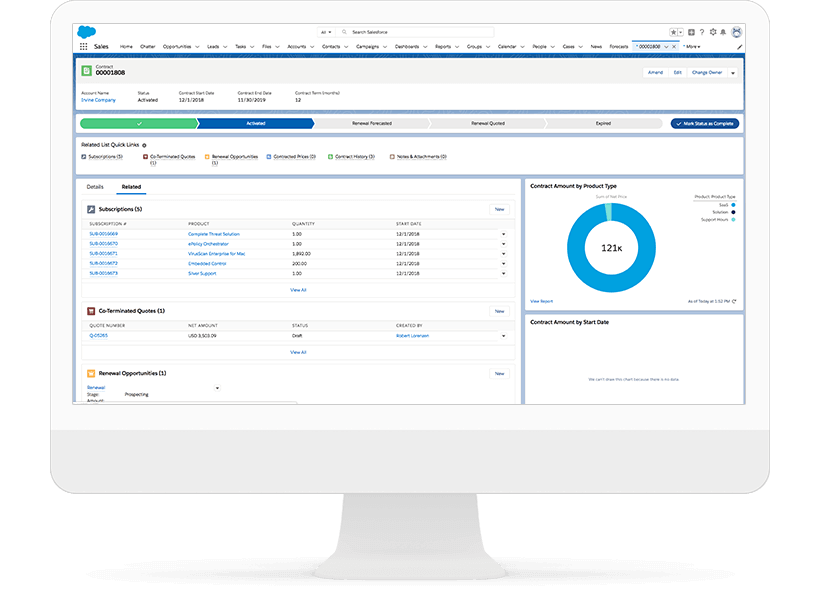 Now your teams and tech platform are acting as one unified platform with the Salesforce's unique approach of sales reps and finance people to track the revenue together.
Now Salesforce users can get pricing approvals, generate quotes and increase the efficiency of communication with finance.
When the potential customer is ready to discuss the numbers, the sellers are ready more than ever before, thanks to the Salesforce CPQ solution!
Constant satisfaction for the recurring customers
According to Salesforce, 73% of customers are likely to switch brands if a company can't provide consistent services across different channels and mediums.
Means people want to have the same experience when they first talked to a company even after the following events in the long-term relationship.
Now, CPQ & Billing enables sellers to automate complex and challenging billing requirements and electronic payments and enable them to provide invoices for their customers easily.
Contract expiration is not a problem anymore because sellers can stay ahead of the renewal dates. Also, replacements of the orders or re-ordering are more smooth for customers as they need to refill all the information again and again during the process.
Getting actionable insights around your sales is easy
Through your visible data, you can get much more insights around pricing and how different regions price around your products and how sales reps behave in different markets.
When you combine all the information, you will see how effective is your sales rep's conversion rates your client engagements in your coaching pipeline to evaluate your success.
Ready to implement CPQ?
In Vesium, we totally encourage the technology behind the complex CPQ projects around specific industry needs.
Get in touch with us to discuss how we can help you implement and customize Salesforce CPQ for your business.
[hubspot portal="8289787″ id="4b80c57f-82f0-408e-9daa-46a858b44832″ type="form"]